Element backpack 30L
Please select color option::
Volcano Black
Comfortable CarryLite Ergo System & recycled Carbon AX shell combined with a highly functional camerapack. Light, versatile, durable. Perfect for any demanding Outdoor- and Travel use.
Available, delivery time: acc. destination country
Product information "Element backpack 30L"
Features
Exterior Features
Recycled, tough and weatherproof ReGen AX Carbon and Ballistic 1650D shell


More info at 'Fabrics and Production'

expandable rolltop daypack storage for additional volume with optional velcro flap closure at the top end (with silencer option)
innovative Fidlock buckle on the rolltop - opens in a second just using two fingers, automatic magnetic closing & latching securely
side quick access to have your camera ready within seconds
the zippers on the quick access and front pocket can be locked to prevent theft using two built-in carabiners sitting in the left tripod pocket.
spacious side water bottle pocket which can also be used for larger tripods, a gimbal etc.
smaller slide-in pocket with fastening straps on the quick access side for compact tripods, smaller drinking bottles or similar items
compagnon CarryLite ergo system based on comfortable 3D AirMesh padding for first class ventilation, ergonomics and fit
ErgoBelt hipfins to provide an effective relief of shoulders, spine and neck
ErgoBelt hipfins can be taken off easily whenever needed
ergonomically padded 3D AirMesh shoulder straps without pressuring seams on the edges, added metal attachment D-rings on the front to fasten accessoriers if needed
excess strap length on the hipfins and rolltop straps feature integrated 'strap garage' retainers for sleek, organized look
highly water resistant YKK Aquaguard zippers with glove-compatible handle loops all around the exterior
the design on the clamshell opening of the main storage allows for laptop compartment access without opening the backpack completely and expose the content
side zipper pocket with expanding folds adapting to even bulkier items while maintaining a slim profile
hidden zipper pocket inside the floor panel for keeping the separate mudcover (included)
the mudcover can be cleaned under water and air-dried separated from the backpack
spacious slide-in pocket with velcro flap closure and additional carabiner inside to keep your keys or similar items
subtle Hypalon loop on the floor panel to mount a (bike rear)light for added security in low light areas or at night
Interior Features
the rolltop daypack section offers a silencer option for the velcro flap so you can access quietly or have maximum protection
main storage compartment with protective padding all around to ensure safe, flexible transport of your gear
total of 10 versatile velcro velours dividers to adapt the storage to any kind of kit (three pads with built-in folding function)
added soft flex pockets on three of the dividers, perfectly suited for filters, batteries, lens caps, remoted, adapters and more
total of 10 velcro fastening straps to secure small or especially heavy/bulky tech you would like to fasten even more
separator wall between rolltop and main storage can be opened by a zipper if needed
subtle interior zipper pocket inside the rolltop is ideal for high security transport of wallet, documents, cards, ID, tickets and more
very spacious front organizer pocket with mesh zipper pocket, elastic slide-in pockets, compartments and loops for your everyday carry needs
additionally padded laptop compartment up to 15" screen sizes (Macbook Pro 2019 or newer also 16")
build-in ground mat behind the laptop compartment for sitting/kneeling on cold, rough and/or dirty surfaces
memory card holder for min. 6 cards and two zipper mesh pockets to be arranged anywhere in the storage area using a velcro base (included)
Fitting equipment
Bodies
depending on number of leses & camera size(s) you can fit more of fewer cameras

compact mirrorless cameras like Leica M10, Leica Q2, Olympus E-M1 Mark III, Fujifilm X-T4 and similar
compact APS-C DSLR bodies like Canon EOS 80D, Nikon D500 and others
mirrorless fullframe systems like Sony Alpha a7R III, Canon R5, Nikon Z7 II and more
fullframe DSLR bodies like Canon EOS 6D Mark II, Canon EOS 5D Mark IV, Nikon D750, Canon EOS 1Dx, Nikon D6 etc.
medium format cameras like Fujifilm GFX100, Hasselblad X1D II 50c, Hasselblad H6D, Leica S3, PhaseOne XF IQ4 etc.


*with bodies exceeding an overall height of 16-17 centimeters it may not be possible to add a laptop as well
Lenses
lenses with a max length of 50 centimeters do fit in the main storage
with even larger tele lenses you can open the separator wall between the rolltop and the main storage to access even more capacity. This is usually not a permanent carrying layout but can help fitting lenses up to around 80cm in length for a brief occasion
common fast zoom lenses like the popular 70-200mm f/2.8 will fit solo or mounted to most cameras straight across the main storage. This combo will thus be accessible through the quick access, too
quick accessibility is also guaranteed with a wide range of fast prime lenses like the popular Sigma Art 35mm f/1.4, EF 85mm f/1.2, 135mm f/2, 14mm f/2.8 etc.
Accessories
separately padded laptop compartment for laptops up to 15 inch size (Macbook Pro from 2019 also 16 inch)
according to the size of the camera kit you can add a compact drone setup, for example a DJI Mavic Pro with accessories
the rolltop daypack gives you extra space for an additional jacket, a lunchbox, a bike helmet, a drone case, a second pair of shoes or clean clothes
water bottles, compact to larger tripods gimbals or similar things can be placed on both exterior sides of the bag
documents, notepads, filters, gloves and various other utensils will fit in the expanding side pocket and the deep front flap pocket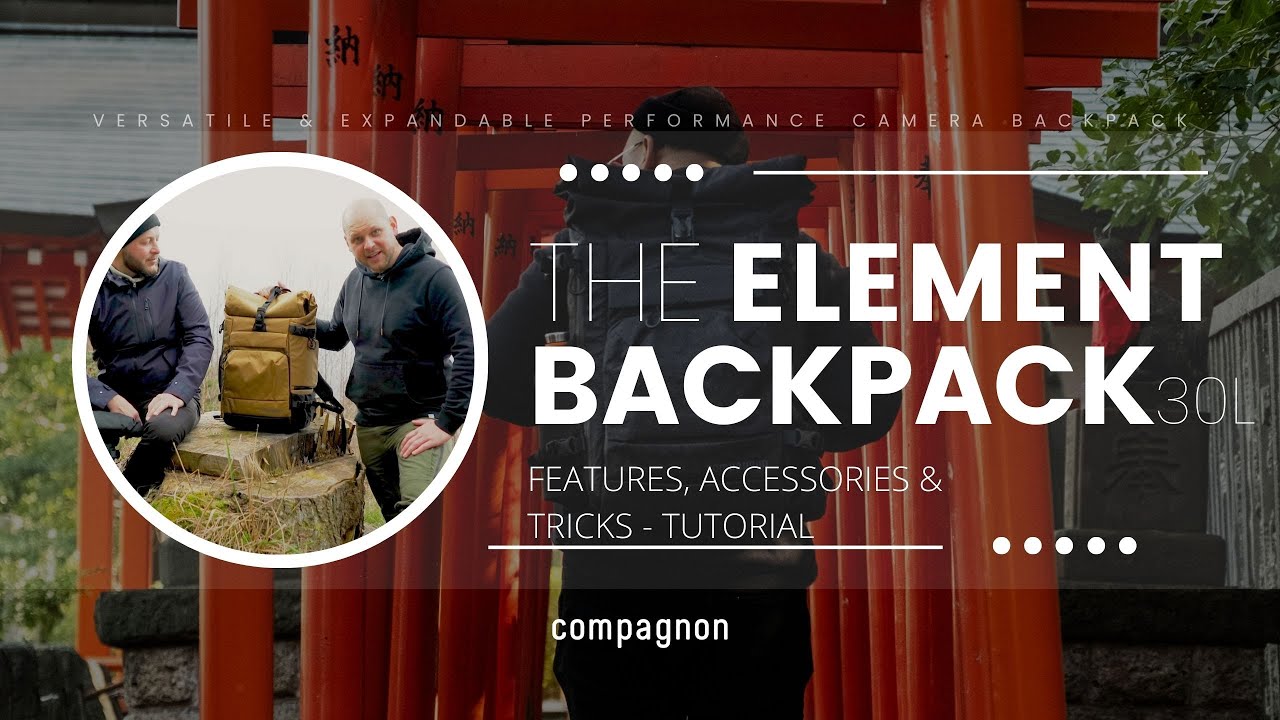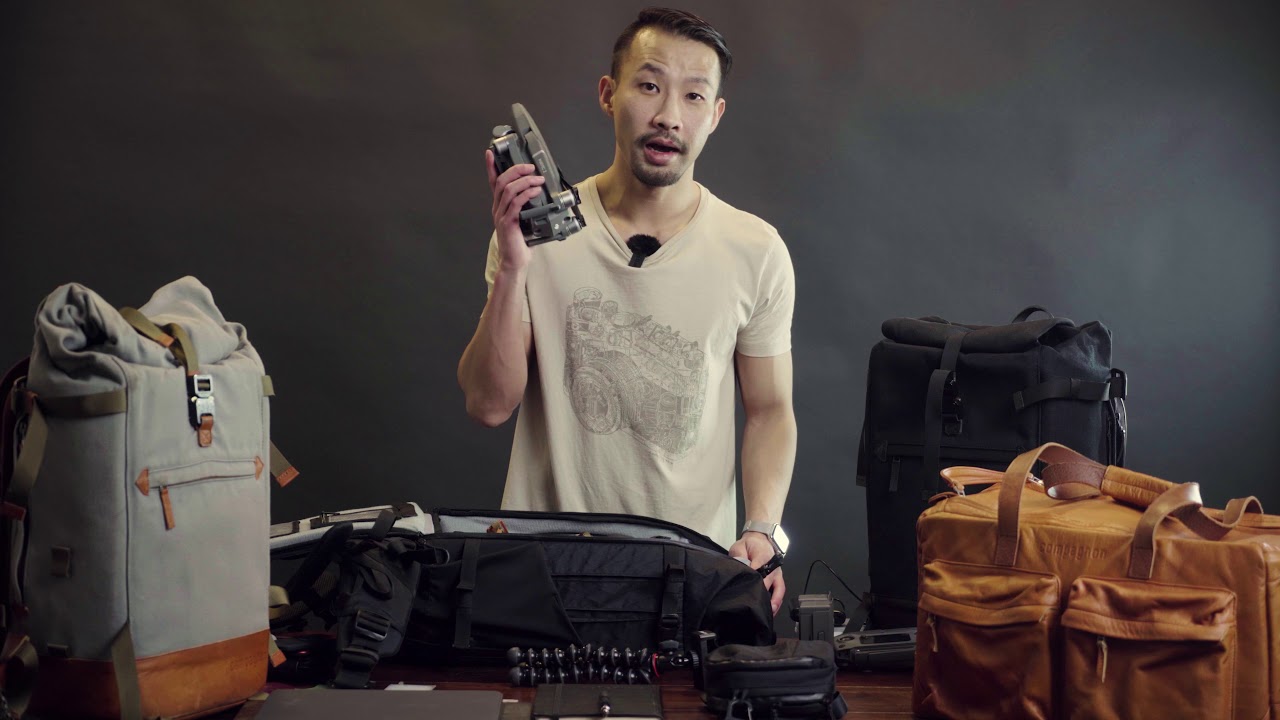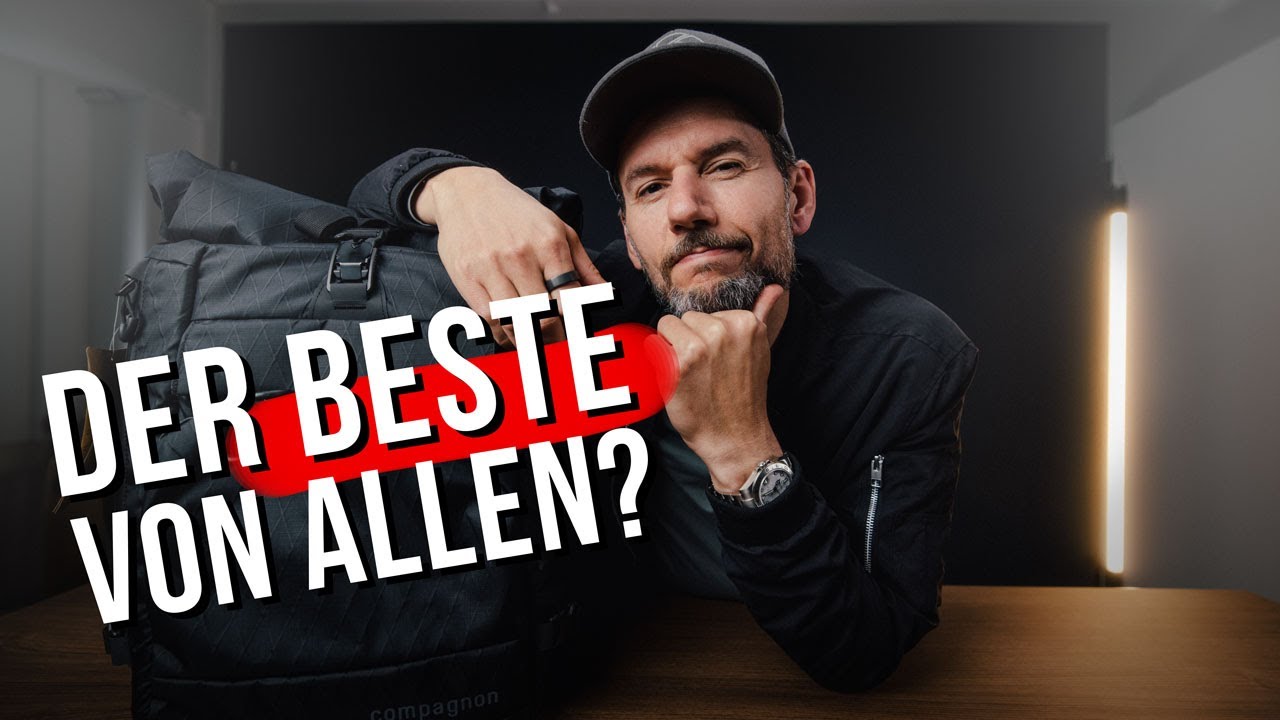 Exterior Measurements
ca. 51 x 30 x 18 cm (HxWxD, unloaded)
Interior Measurements
ca. 49 x 29 x 16 cm (HxWxD, unloaded)
Interior Measurements Rolltop;
max. ca. 36cm high x 35cm wide
Laptop compartment
fits laptops with 15 inch screens (16" 2019 Macbook Pro will fit)
Weight
ca. 2 kilos
AX Carbon ReGen Nylon
Regen is a recycled nylon yarn, 'regenerated' from 100% plastic waste. Each kilo saves up to 7 kilos of CO2 compared to regular production and cuts down on necessary use of petroleum-based ressources massively
Added to the ecological benefits the tensile strength, durability and weatherproofing are well within the standout performers in textile outdoor technology
For dirt and water repellency, which is a given for a compagnon Element Line product, a DWR durable water repellent coating is added to the fibre. This coating is free of perfluorinated compounds (PFCs), which are harmful to health and environment
Its first-class performance is improved further for our products by combining regen Nylon with the AX Carbon technology
AX Carbon reinforces the entire laminate with its grid structure, characteristic for our Element Line products. High-tenacity bundled strands improve tear strength, durability and stability of the exterior shell massively
Even though multiple fabrics and technologys blend into this incredible laminate, the overall weight is so light, that only few fibres can match it, even though the competition is less durable, strong and functional
Created for demanding outdoor use this compagnon Element does protect your equipment just as well as the planet you're set to explore
Recycling and Manufacturing without Greenwashing
Recycling and frugal, caring use of all ressources is essential. Sadly, the demand for especially cheap recycling fibers has skyrocketed worldwide so, not uncommonly, PET bottles are being made with considerable amounts of energy and ressources just to be shredded in a neighboring facility to be 'recycled'. That's not what we call environmentally-friendly practice. Without greenwashing this would be a great start instead of a platic bluff package.

Therefore our ReGen AX Carbon Nylon fiber shell and the lighter inner fabrics are made from industrial plastic waste. Many industrial production processes generate large amounts of resource, which tends to comprise extraordinary quality and purity plastics still not being recycled as often as they should. So we're heading into this direction and thus can save up to 7kg of CO2 for each kilo of yarn made this way. Not to mention the reduction in use of petroleum-based and other ressources.
The axiom of our manufacturing, to establish fair and responsible production conditions according to high European standards in areas where the know-how in manufacturing of outdoor garments is based for decades, is still our focus. Partnering with world-renowned, innovating outdoor brands we continue to drive this change. In our video from the Element Line manufacturing we show and share more details and these insights are equally valid for the Adapt products as well.
---
I was looking for a backpack that was comfortable can withstand the elements and protect all the gear inside. I came across a YouTube video review of it and loved it almost immediately. I'm very picky and specific when it comes to tech and gear and this bag checks all the boxes except for one, but definitely not a deal-breaker. I only wish it had a dedicated tablet sleeve along with the laptop sleeve instead of the foam ground cover. I can fit both in the one sleeve but would prefer to not have them laying on top of each other. Aside from that the bag is perfect. The X PAC material is wonderful as I plan to be in many different weather environments. The sleek form factor is wonderful and the depth and side access are marvelous. I really like the expanded roll top space for whatever I need it to be. It's strangely lightweight despite all the gear and feels really nice. It's hard to find the best backpack for one's needs and this backpack is the one for me. I plan to stick with this backpack for a long time as it covers my daily use and travel use. I will definitely keep an eye on Compagnon products as they fit my style. Great backpack
Top Rucksack mit genialem Tragekomfort
Ich liebe meinen Backpack! Er ist super robust, es passt meine komplette Ausrüstung (Fuji XT-3 Body, 5 Objektive, 6 Rechteckfilter, Filterhalter, Putzzeug) hinein. Ins Laptopfach geht sogar ein 16" Macbook gerade so hinein. Dazu kommt das Rolltop, was locker die Klamotten für eine Übernachtung reicht. Der Tragekomfort ist für meine Größe super. Bergwanderungen über viele Stunden sind völlig problemlos. Hinzu kommt, dass der Nässeschutz sehr ordentlich ist. Bei Dauerregen über mehrere Stunden hält aber auch der Backpack nicht völlig dicht. Ich bin absolut überzeugt von dem Produkt!
Ich habe endlich den perfekten Rucksack gefunden, was wirklich nichteinfach gewesen ist. Von dem Tragesystem bin ich genaus so begeistert, wie von den Materialien und der Aufteilung. Mit diesem Tragesystem sind auch Bergwanderungen mit Kameraausrüstung und entsprechend viel Wasser gut möglich. Bei mir sitzt der Rucksack trotz recht kurzem Rücken wirklich gut. Die Tasche im Hüftgurt ist so groß, dass tatsächlich auch ein smartphone hinein passt. Ich habe den Rucksack jetzt eine Woche im Urlaub genutzt und bin nur begeistert. Sehr gut gefällt mir auch, dass er stehen bleibt und nicht kippt. Alle Materialien machen einen sehr hochwertigen Eindruck, so dass ich glaube, er wird mich sehr lange begleiten. Dafür hat sich die lange Suche und das Warten gelohnt.
Après l'Elément Sling 11 pour les petites sorties photos quotidienne je viens de recevoir cet Elément Backpack. C'est un excellent sac photo, grand et léger, très bien fini dans un matériau solide. Plein d'astuce pour le rangement du matériel. Je l'ai complété par l'Elément Pouch pour les petits accessoires. Très content de mon achat, j'adhère totalement à la philosophie de Compagnon: qualité et fabrication éthique.
I purchased this excellent bag after watching a YouTuber I follow and came directly to the site. I live in Istanbul so it took a little awhile to receive the bag but it was delivered with no problems at all. And very excitedly I immediately started organizing my bag. It fit my Canon Eos R with a RF 100-500 mounted on and my other Canon Eos R with RF 15-35 mounted on , my DJI Mavic 2 Pro , extra batteries , remote and my tech bag with extra room to spare. This might be dangerous as I could easily add stuff I don't need to carry just cause I have the space :)) I have not used the rolling side yet but I am sure it is going to be very useful and handy. On the side zipper I put a big charging dock with all sorts of cables with no problems. The front pocket which I love took all my GoPro accessories and bits and pieces. On my first outing for the first time I had no back pain ( I have major back ache problems ) and when I came back to the car to put my tripod and bag in the boot I realized I had forgotten the bag on my back :) it is that comfortable to use that you forget you have it on your back. I just wish we could have had just some more color options , specially a nice navy one. Thank you very much for offering such great service and bag Compagnon :)
Love this backpack, which proves extremely functional, resistant, stylish, comfortable as well as ethical
I purchased the Elements backbpack for my travel needs with my photo gear, after trying backpacks of 2 other brands one full week each. The Compagnon Elements comes first by many criteria. Even though the Compagnon web site is very informative (which gave me hints on the quality of its bags), it is difficult to get the impression of a backpack before actually seing and trying it. Once I decided to purchase it, and received it, the Elements backpack has met all my criteria, and they were demanding. First of all, I quickly loved the alliance of style (desert brown was my personal choice), functionality, comfort on the back (thanks to padding and lightweight) and obvious durability of the fabric and global design. The organization, different from what I had seen before, revealed itself to be extremely functional, fitting both short afternoon shootings and a few days trip. The roll top has just the right size to my opinion to have this versatility, the front pocket is well organized and useful, as well as the side mesh pockets. The front scratch pocket I used as a discrete compartment for my passport. There is far enough space in the main compartment for my camera gear (a Fuji APS-C X series and its 4 lenses, but a DSLR body will fit equal), as well as my 13" laptop and its cover. I could arrange the separators with velcro attachments on the side to fit the camera gear well, and even arrange, under Compagnon advise, a kind of "window", made by a separator, to be able to grab from the side pocket the lens located under the camera body. The back padding and shoulder strips makes carrying the backpack really comfortable. I am glad my smartphone with its cover fit in the belt pocket. It's nice to feel one's equipement secure as the material is very water resistant, as this last week near the Loire river with much rain has shown me. The only thing I found strange / possibly misplaced was the keyring, in one of the mesh pockets. But perhaps the ring is designed to fix a tripod or another accessory rather than a key. In that case, I would add a ring in the front pocket. The ethical part of the production process was important to me, and I trust the information given on the process and conditions of production on the Compagnon web site. I am glad to wear a backpack that contributes somehow to working conditions and that is at least traceable. Globally, I am extremely satisfied with the Elements backpack, which I feel will fit all my exterior camera needs for many years.